Kefalonia is the largest island of the Ionian Sea. It has an area of 781.5 square kilometers and the population at the last census was about 40,000.
According to tradition, the name derives from the first inhabitants of the island, the mythical hero Cephalus. It is believed that Cephalonia was formed during a great earthquake, which was probably the case as the island lies directly on a major seismic fault in the Ionian Sea.
Kefalonia is widely mentioned in the ancient transcripts that are nowadays saved and restored, while Homer's Ithaca is known all over the world through Homer's famous epics, which have been widely studied.
Historically, along with the Greek civilization and spirit that prevailed in the following century, Kefalonia managed to create and preserve its unique and specific local character. The strategic location of Kefalonia within the Mediterranean Sea helped in the expansion of trade. Due to all these unique characteristics, Kefalonia managed to experience prosperity, progress and health, as well as cultural flourishing.
For more click here to see information from wikipedia.
For more click here to see info from wikipedia.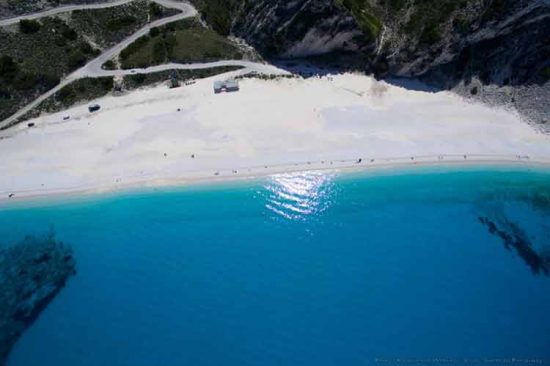 Kefalonia is called the "Island of the Bizarre" because of the many unusual phenomena recorded on the island and the "peculiar" (in a good sense) behavior of its inhabitants. The coastline and its length of 254 km, reveals a rich horizontal division. Strips of land jutting into the sea, forming the peninsulas of Paliki to the west and Erisou to the north. The sea also forms many wide bays and inlets. The most important ports are the port of Sami, which is opposite Ithaca, the port of Poros in the southeast of Sami and the port of Argostoli in the west of the island, which was a natural strategic naval base in ancient times. The bays of Myrtos and Athera in the north and the bays of Lourda and Katelios in the south with their enchanting beaches attract many visitors every year. The geological phenomena of Kefalonia are the so-called Katavothres (water sinks), the Drogarati Cave and the Cave Lake of Melissani.
The island offers many attractions, from the natural landscape and beaches to the great creations of those who passed through Kefalonia over the centuries. The most important are the castle of St. George, the cave lake of Melisani, the Drogarati cave with its stalagmites and stalactites, the Archaeological Museum of Argostoli, the monastery of St. Gerasimos, the beaches of Myrtos, Antisamos, Xi, Lourdas and many more that you can see in the attractions and beaches section of this guide.