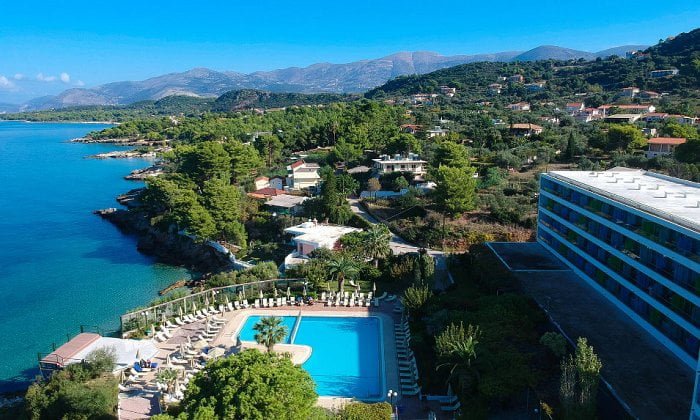 Lassi is a small and charming tourist village placed just behind the capital of Kefalonia island, Argostoli (3km).
The village of Lassi is developed in front of the sea, is surround by a couple of hills and has never had a massive development, keeping the tourist building hidden in the Mediterranean nature.
Even if this town is placed in a lovely and relaxing area, it is very well organized to offer any kind of services and amusements to the tourists.
On Kefalonia island, we realized that Lassi is one of the best developed tourist center as it can offers a great combination of a clean beautiful sea and tourist attractions.

Lassi with its amazing sunsets represents the ideal choice for couples, group of friends and families with children.
This area of Kefalonia is really easy to reach from both port and airport and it's only 3 km far from the main town Argostoli.
For who love also the cultural aspect during an holiday, at Lassi there is the small church of St. Gerasimos in which you can visit the cave of St. Gerasimos, the patron saint of the island.
Lassi area is really stunning as you can find several bay and small coves that give you the opportunity to have your privacy and to swim in a very clear sea. The main beaches of this tourist village are anyhow two: Makris Yalos and Platis Yalos.
Both beaches are very large and equipped for tourists with sunbeds and umbrellas as well as showers, beach bars and water sports.
Don't expect late night clubs in Lassi, it's more of a family beach resort than a party town. That's not to say there aren't any late night bars, of course there are but if you want to be drinking and dancing into the early hours then you'll be much better off heading to Argostoli.
In Lassi, most people will simply enjoy a meal as the sun goes down and then take up a seat somewhere and enjoy a carafe of local wine, a pint or two of Mythos or perhaps a couple of cocktails.
Another option is to go to a Greek night where you'll experience some traditional Greek music and dancing which makes for a good fun night out. Zorbas at the southern end of the strip is a great choice for this, check when you arrive what nights it's on.
How to get from Kefalonia Airport to Lassi by Taxi
Getting from Kefalonia Airport to Lassi by taxi is a convenient and easy option. Here are the steps to follow:
Pre-book a taxi: You can pre-book a taxi online with kefaloniataxi247.com or via Whatsapp to ensure availability and avoid waiting time at the airport.

Meet your driver: Your driver will be waiting for you at the arrivals hall holding a sign with your name on it.

Confirm the destination: Confirm with your driver that you are going to Lassi to avoid any confusion.

Pay the fare:Payment can be made in cash or by credit card.

Enjoy the ride: The journey from Kefalonia Airport to Lassi takes around 30 minutes, and you can enjoy the scenery along the way.

Arrive at your destination: Your driver will drop you off at your accommodation or the designated location in Lassi.
How much it cost from Kefalonia airport to Lassi
Taxi from Kefalonia airport to Lassi cost 20€ – 25€ approximately. You can book your taxi with us at Contact page or via Whatsapp.
The travel time is about 15 minutes.
Book in advance: It is recommended to book a taxi in advance, especially during peak travel times, to ensure availability and avoid waiting time.