La boutique del fitness – Libertà Piacenza isotretinoina prezzo bassa percentuale di grasso corporeo – sport-e-fitness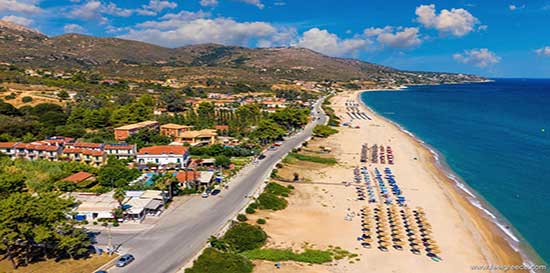 Skala is one of the most popular and well-organised resorts on the southernmost part of the island of Kefalonia. It is 35 kilometres away from Argostoli and just like the neighbouring village of Katelios, it is a paradise for walkers and nature lovers. The most distinguishing feature of Skala is its very long pebbly and sandy beach with the forest of pine trees at the back of it, separating the land from the sea.
Because of the popularity of the resort, the beach gets quite busy during the high season, despite its large size. However, if you love doing water sports, then this beach is the right one for you, as there is an organised water sports school there. If you like having fun on the beach and enjoying some music while lying on sun loungers, you could definitely go to some of the lively beach bars of Skala. For those of you who want to avoid the noise of a busy beach, there are still a lot of beautiful spots for some privacy and relaxation in the small, secluded coves of the area around the resort. You could also go on a daily boat trip to Poros or other areas of the beautiful island of Kefalonia by joining one of the cruises organised from Skala.
In the village, there are a lot of taverns, restaurants, bars and supermarkets to accommodate all your basic needs. From having a delicious lunch in a Greek-style taverna and a refreshing cocktail in one of the local bars to buying everyday supplies from the supermarkets and Greek souvenirs from the gift shops, Skala has it all. If you decide to eat in one of the taverns in the village, go for a traditional dish called "bianco". It's a delicious fish stew with garlic flavour, served with crusty bread. Everything is within a reasonable distance and therefore you won't have to waste time by travelling to bigger towns, like Argostoli. However, if you don't mind moving around, we suggest you have dinner in one of the notable fish taverns of nearby Katelios.
Accommodation is also more than satisfying since there are luxurious 4-star and 3-star hotels as well as more affordable apartments and villas. Book a room in Skala to enjoy the warm hospitality of the locals and learn more about the rich Kefalonian culture from your friendly hosts. For your fun time at night, apart from the bars and taverns which are almost a must-visit place wherever you are on Kefalonia, there is also a local club if you want to dance the night away. For more options, you could go to Argostoli to experience the vivid nightlife.
If you want to do more than beach holidays and are interested in going sightseeing, in Skala there are both natural and historic sites, such as the Cave of Sakkos, the temple of Apollo, the ruins of the old town and the chapel of Agios Georgios. In the Cave of Sakkos, findings from the prehistoric period were discovered, while the ruins of the temple of Apollo, outside Skala, along the coastal road to Poros, date back to 6th century BC with its remarkable Doric columns still standing. The chapel of Agios Georgios was rebuilt after the devastating earthquake of 1953 using some of the ruins of the temple of Apollo.
To order a Skala taxi contact us to book a taxi online.
How to get from Kefalonia Airport to Skala by Taxi
Getting from Kefalonia Airport to Skala by taxi is a convenient and easy option. Here are the steps to follow:
Pre-book a taxi: You can pre-book a taxi online with kefaloniataxi247.com or via Whatsapp to ensure availability and avoid waiting time at the airport.
Meet your driver: Your driver will be waiting for you at the arrivals hall holding a sign with your name on it.
Confirm the destination: Confirm with your driver that you are going to Skala to avoid any confusion.
Pay the fare:Payment can be made in cash or by credit card.
Enjoy the ride: The journey from Kefalonia Airport to Skala takes around 30 minutes, and you can enjoy the scenery along the way.
Arrive at your destination: Your driver will drop you off at your accommodation or the designated location in Skala.
How much it cost a taxi from Kefalonia airport to Skala
Taxi from Kefalonia airport to skala cost 55€ – 60€ approximately. You can book your taxi with us at Contact page or via Whatsapp.
The travel time is about 50 minutes.
Book in advance: It is recommended to book a taxi in advance, especially during peak travel times, to ensure availability and avoid waiting time.